CUTTING EDGE INSTALLATIONS
WHAT WE CAN DO FOR YOU
Cutting Edge Installations Inc. is a company that specializes in installing industrial grade epoxy and urethane floor/wall systems.
We have been in business since 1999 and have over 40 years of experience in the field. We are located in Enfield, Connecticut and service all of Connecticut, Massachusetts, Rhode Island, and New York as well as southern New Hampshire and Vermont. As a woman owned business, we are State of Connecticut DOT and DAS DBE certified, State of Massachusetts SDO DBE certified and State of New York DBE Certified! Cutting Edge Installations Incorporated is a Affirmative Action/Equal Opportunity Employer or AA/EOE company.
Cutting Edge Installations can accommodate a wide variety of needs in the commercial sector and even residential sector by offering a vast range of services while providing the top manufacturing companies to service your needs. In addition to providing specified systems, we also can value engineer a floor system to fit your budget. So take a few minutes and browse our website to look at what we have to offer, or call us directly at (860) 253-0362. We look forward to working with you!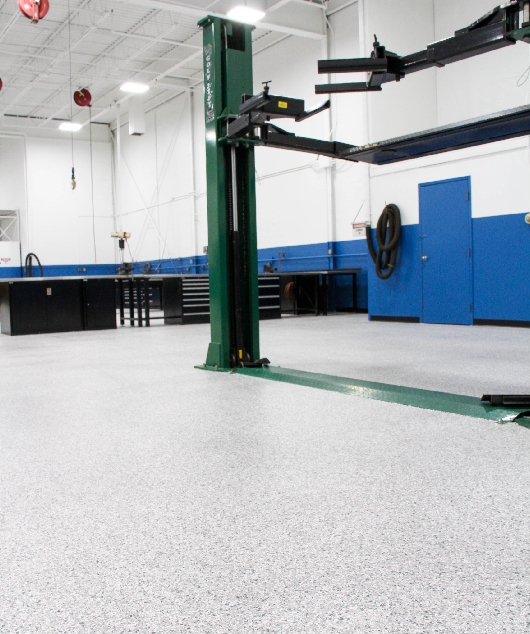 Epoxies are used in a variety of scenarios, such as adhesives, for carbon fibre and glass reinforced plastic. Commonly used in the construction industry, epoxies are ideal as a floor coating where the epoxy coats a base material such as concrete, enhancing its properties.
Some popular areas where an epoxy floor could be an ideal solution are:
Colored silica can also be added to the epoxy which can give a very attractive finish. Also, great levels of creativity can be produced by designing patterns combining different colored epoxies which can be very vibrant and aesthetically pleasing.